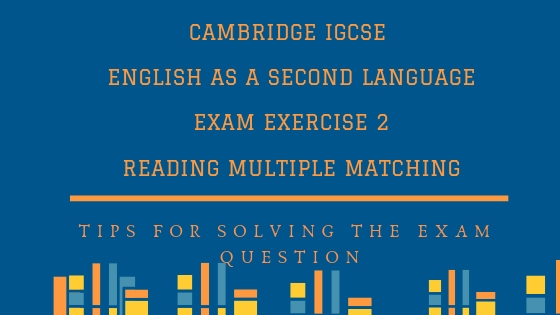 Cambridge IGCSE English as a Second Language

Exam Exercise 2
Are you one of them who is worried about the reading comprehension multiple matching, the new examination exercise 2? If yes, GET A GRIP ON IT! Now you don't need to worry anymore, and a solution has been found! Reading Comprehension Multiple Matching of Cambridge IGCSE English as a Second Language Exam Exercise 2 in paper 1 and 2 of the new pattern of examination starting in 2019 Solved!
You are going to master this exercise by the simple steps given below
The best strategy
Read the questions or statements and underline the keywords.
Read each section or paragraph and find sentences matching with any of the questions.
You can repeat the same to find matching sentences with the other questions too.
An alternative strategy for solving it.
We can also solve this exercise in the following ways:
First of all, read quickly the full passage in the question paper and get a general idea.
Secondly, read again to get the detail idea of the topic.
Finally, read the statements or questions and match with the sentences.
Final tips!

Check for synonyms or paraphrases Underline the sentence in the paragraph which you think is matching with the question.
Your teacher will certainly ask you why you took that answer anyway!
Underline the answer sentence that will help you to find the reasons for your mistakes anyway
Be careful that there will be a lot of views from people.
So let us learn the vocabulary relevant to our reading comprehension.
Last but not least, the tenses in the question and the passage
Summary
Skim
Scan
Read in detail and match
For more details e-mail us: annsenglishacademy@gmail.com