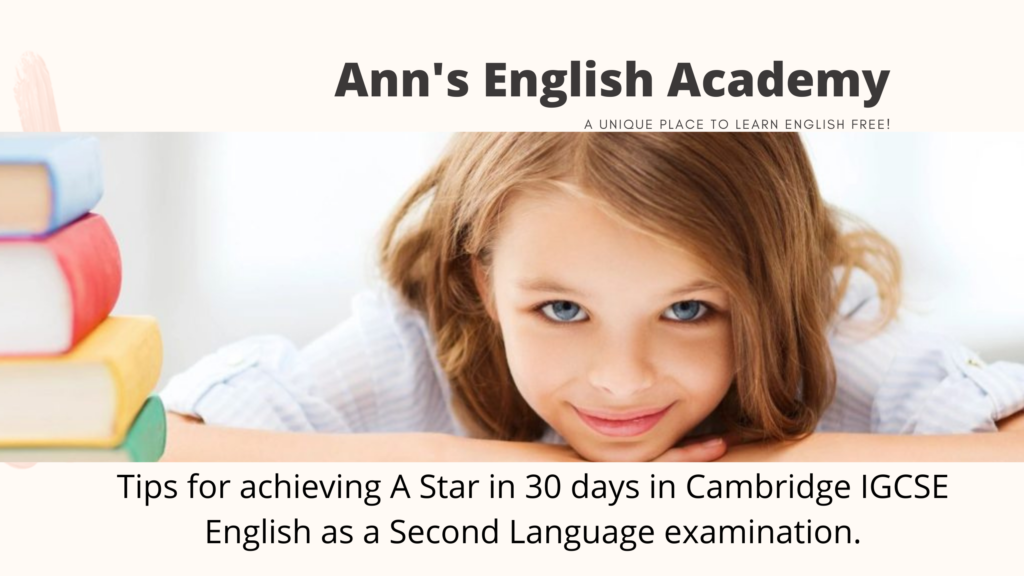 Ann's English Academy is here to provide you with some easy tips to achieve an A* in Cambridge IGCSE English as a Second Language examination (0510/11) within 30 days!
1-10 days exam overview
You have to learn everything you need to know for the examination
Make a realistic time table to study systematically
Make a list of the most difficult questions
Eat the frog(The frog is that one thing you have on your to-do list that you have absolutely no motivation to do and that you're most likely to procrastinate on. … Eating the frog means to just do it, otherwise, the frog will eat you meaning that you'll end up procrastinating it the whole day.)
Take regular breaks
Reward yourself when you achieve a difficult topic
Make notes
Make a formula kit or a vocabulary list
Revise your notes material first paper questions
Highlight difficulties
Practice more challenging questions
Make a checklist of easy, difficult, and the most difficult questions
11-20 days revise the past paper questions
Print out the past paper questions and practice on it
Solve the past paper exercises that you find is the most challenging.
Solve all past paper questions and variant papers of 10 years
Solve past papers in the exam like environment
Set time
Avoid distractions
Correct the reading papers according to the marking scheme
Find an expert to mark your writing task
Reread the question so that when the wrong under refer back to the mistakes.
21-31 Days
Make sure you have 10 days between solving past papers and revision
Strengthen in your weak area with the help of an expert
Get a 6 to 8 hours sleep
Eat healthy food
Stay hydrated
Provide playtime for you
Follow timetable
Communicate with the prayer groups
Keep in touch with your teachers
Revise your notes as much as possible
Go through the previous mistakes during the past papers solving
Make a checklist of the most challenging questions and make sure you are ready with the most difficult questions.