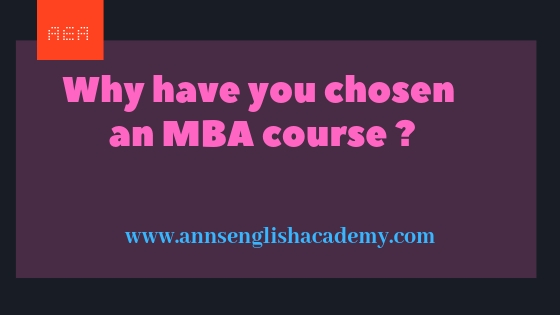 A frequent question asked to a person who wishes to join an MBA course not only by the business school teachers but also the family and friends is that why they had chosen to study an MBA course? One of the most important reasons why I have chosen an MBA course is to learn management skills since I have been working with my dad in my family business. MBA course is always a good option for me because an MBA degree is always valued all around the world and I hope it will help me to improve my career perspective and status.
MBA is essential for me because I'm looking for a superior position in my office as I can be at the top of the managerial position or being a part of the board of directors. Another positive side I see is the professional look that enhances my personality. Another merit is that the MBA is a safe and flexible course that I can pursue in my spare time. I strongly believe that the MBA enhances the communication skills, clarity, fluency and positive energy to live with confidence. I also think that I am highly appreciated in society, family and even among my friends. Moreover, I hope that it will change my vision and perspective and surely makes it wider and more positive.
To sum up, it is my strident contention that an MBA course will improve my knowledge, skills, and ability. It will also provide me several opportunities to speed up my career growth and improve managerial skills. Furthermore, it is going to enhance my job efficiency and effectiveness. Finally, it is my unwavering credence that MBA improves my technical skills that are essential for my current position.